Pumpkin Popcorn Balls. Disclosure ~ Post Sponsored by JOLLY TIME Pop Corn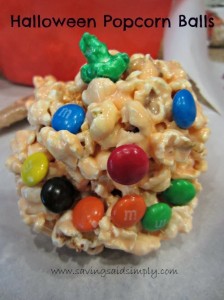 Pumpkin Popcorn Balls with JOLLY TIME
JOLLY TIME Pop Corn makes Halloween FUN with the JOLLY TIME Popcorn Ball Maker! Did you know that October is also National Popcorn Month? And what a better time to celebrate than with a super cute Pumpkin Popcorn Ball, made with delicious JOLLY TIME Pop Corn! I had a great time cooking with the kids to get into the Halloween Spirit. Here's how to make delicious Pumpkin Popcorn Balls. Here's what to do: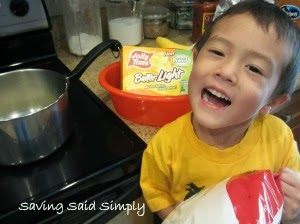 Ingredients:
1 Bag of JOLLY TIME Pop Corn
1 JOLLY TIME Popcorn Maker
Cooking Spray
1 Bag of Mini Marshmallows (10 oz.)
1/4 Cup Butter or Margarine
Food Coloring
Colored Candies
Melt the butter/margarine in a large saucepan over low heat. Add marshmallows and stir until marshmallows are completely melted.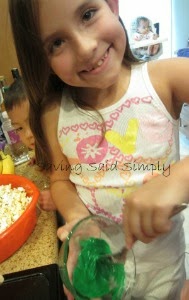 Spoon out a tablespoon of the melted marshmallow/butter into a small bowl. Add a drop of green food coloring (or 1 drop of blue and 1 drop of yellow food coloring) and stir until blended. Add a couple of pieces of popcorn and coat well. Set aside.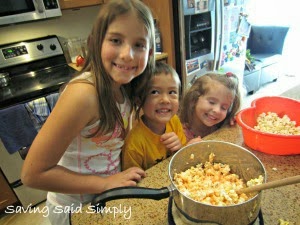 Remove saucepan from heat. Add 2-3 drops of red and 2-3 drops of yellow food coloring to the saucepan and stir until mix is orange. Stir in popped popcorn until well coated.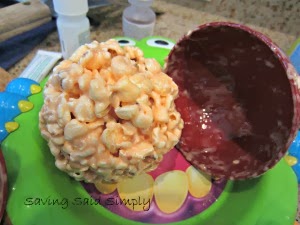 Grease the Popcorn Ball Maker with cooking spray (I really coated it!). Add popcorn and shape into spheres. Let cool.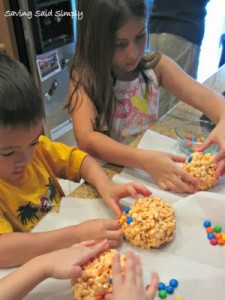 Decorate your pumpkins (if desired) with colored candies. You could also add icing, etc. to give your pumpkins some flair.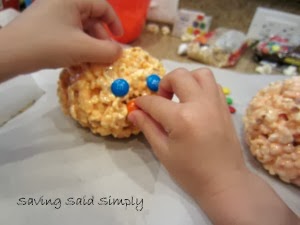 It was so cute to watch the kids be creative and make their own little pumpkin faces. For the crowning touch, add those green colored popcorn "stems" to the tops of your pumpkins. Here's the kids' results:

I LOVE them! And of course, the kids loved eating the results!
JOLLY TIME Pop Corn mini bags also make great trick-or-treat goodies. Consider handing them out this year to the kiddos!
Be sure to follow JOLLY TIME Pop Corn via Facebook, and Twitter for promotions, new products, coupons and more!
Ready for a giveaway? 1 lucky Saving Said Simply fan will win 2 FREE product coupons for JOLLY TIME Pop Corn! Ends on Halloween (10/31/13). Here's how to enter:
a Rafflecopter giveaway
GIVEAWAY NOW OVER. THANKS FOR ENTERING.
Disclosure ~ I received free products from JOLLY TIME Pop Corn to conduct this review. No other compensation received. Though the products are free, the opinions are 100% my own! JOLLY TIME Pop Corn provided prize for my winner. Saving Said Simply responsible for shipping or prize.
Blessings!
Christie