Disclosure ~ I received free products from Pinypon/Famosa to conduct this review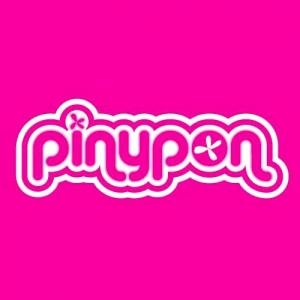 Pinypon Playsets Review #HolidayGiftGuide
Your little girls will love these new playsets from Pinypon (pronounced pin-ee-pon). These pint sized dolls come complete with a brightly colored and smartly detailed world that will have your girls imagining all sorts of FUN together! I cant wait to share these precious little dolls and playsets with you!
A little bit about Pinypon:
Pinypon is an adorable mini dolls line featuring fashionable and modern girls in their little worlds. From shopping to cooking to playing outside, these dolls are ready to interact with your child! All of the Pinypon dolls are interchangeable. Change out their clothes, accessories, even hairstyles for create lots of new friends! This line is also from the famous Eurpoean Toy Maker Famosa, who has been manufacturing quality doll products for over 50 years!
We got to review the new Piynpon Ski Lodge and Car & Tow, just in time for the wintry season. My nieces were thrilled (i.e. fanatical jumping up and down and screaming commenced) and couldn't wait to play.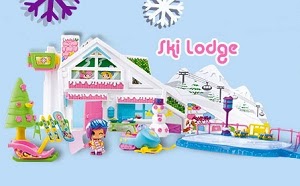 Pinypon Ski Lodge
This amazing Pinypon Ski Lodge playset is ready for some outdoor winter fun! Complete with 3 dolls, a 2-story ski lodge and lots of great winter sports fun, your little Pinypon dolls will not be bored! Some of my favorite features include: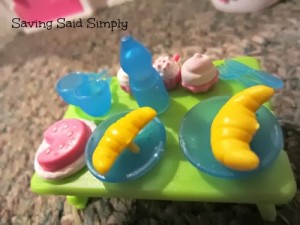 Over 50 accessories! They think of everything from purses to ski skirts to even down to forks and knives for the table! These dolls are ready for a wintry picnic!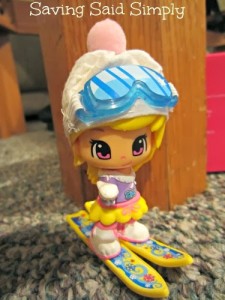 How cute are these dolls? Their hats, skirts, pants, hair….everything is interchangeable! You can create lots of new friends with this 3 figure set!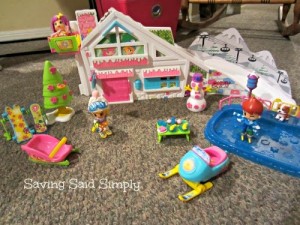 Everything you need for a winter wonderland! Snowboards, sled, snowmobile, snowman and a HUGE skating rink that you can fill with real ice! There's a big snow slide too! How fun is that?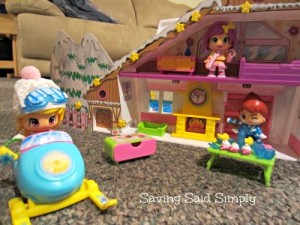 Need to get toasty warm? There's a cozy fire, bed, dresser, and more on the inside of the ski lodge. I love the attention to the little details like paintings on the walls, an opening and closing door and moveable furniture.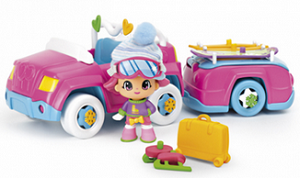 Pinypon Car & Tow
Complete your Pinypon winter wonderland with this cute Pinypon Car & Tow. Complete with figure and lots of accessories to pack, this little friend is ready to join the winter party!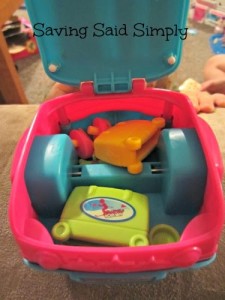 Packed and ready to go! The big tow can hold all of the luggage for a winter getaway!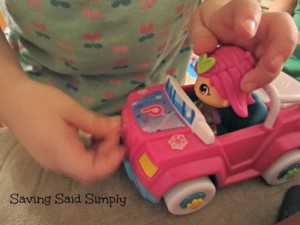 Accessorize! Add FUN winter stickers to your car to make it extra special! My niece loved customizing her pink car to be "just perfect."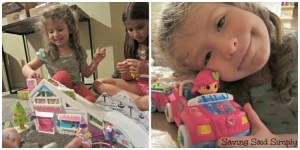 The smiles on my niece's face is priceless! She absolutely LOVES her new Pinypon playsets! Her mom told me that she snuck out of bed to keep playing with her dolls! 🙂 These Pinypon sets will be HOT this holiday season! We highly recommend them for your little girl.
You can find the Pinypon Ski Lodge at Toys R Us! The Pinypon Car & Tow is available at Kmart & Toys R Us.
Stay social! Follow Pinypon via Facebook, Twitter and YouTube for all of the new products & updates!
Head HERE to win one!
Disclosure ~ I received free products from Pinypon/Famosa to conduct this review. No other compensation received. Though the products are free, the op
inions are 100% my own!
Blessings!
Christie