I received a free product from Boba to conduct this review

Boba 3G Baby Carrier Review
I am a mommy-on-the-go! And like all other mommies that are busy multitasking everyday while carrying a baby, having a versatile baby carrier is a MUST! I am completely excited to tell you about the
Boba
3G Carrier. This modern baby carrier provides everything you need to keep up with your active mommy lifestyle!
A little about Boba:
Boba started their line baby carriers and accessories with a focus on "Freedom Together." Boba believes Freedom Together with your children is possible for families with active lifestyles. They strive to bring parents the best products out there not only create a special bond with their children, but to also live life to the fullest! Each product is carefully crafted with the needs of the child AND parents in mind! Boba products have won numerous awards including the 2012 BabyCenter Top Baby Carrier Award Winner, Parent Tested – Parent Approved Winner, Mom's Choice Award Winner and more!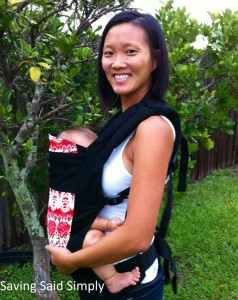 This being my 2nd child, I have definitely tried out my share of baby carriers! With so many options out there, I can understand how hard it can be to choose the perfect carrier for you! Here's why I LOVE LOVE LOVE LOVE LOVE my Boba 3G Carrier!
Buying a baby carrier can be a pricey investment! I want to be sure that I am getting my money's worth out of my carrier. The Boba 3G Carrier is one of the few carriers that you can use from birth through toddlerhood. The Boba 3G can hold a child from 7 pounds up to 45 pounds! Yes, even my 4 year old son meets the weight limit for the Boba 3G Carrier. Knowing that my Boba can be used for multiple years gives me the satisfaction that I will definitely get many, many uses out of it!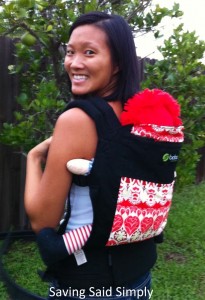 It's convertible! The same carrier goes from a front pack to a backpack without any additional accessories! Fit for children as young as a newborn, you can keep your child close to your chest during the early years. My little girl loves being snuggled close to mommy! I can easily adjust the straps for a tighter or looser fit, and it's perfect for breastfeeding! Then when your child reaches 20 pounds, you can turn your child around and stay on-the-go! I love the backpack option for outdoor activities, especially when your little one wants to be a part of the action! As they grow, there's also detachable foot rest straps that give your little one's legs a rest while keeping their legs, hips and back in proper alignment. I can't wait for my girl to be heavy enough to carry in the backpack position. She will love the view 🙂
Other features I love: 100% Cotton and machine washable; adjustable and removable sleeping hood to prop up your tired child's head; the zippered pouch and multiple pockets, great for carrying keys, phone and other mommy essentials; fully adjustable straps to fit any body type, including Dad's; military grade buckles to give you and your child the security needed while on-the-go! The Boba 3G Carrier is lightweight and comes in 9 different patterns/colors for every personality! My new Boba is made with the cute and girly Soho pattern.
Keeping up with my 4 year old and all of my mommy duties is not a problem with my Boba. I can't wait to see where the Boba 3G Carrier will take me and my girl next! We will definitely have many adventures with my active family.
You can purchase a Boba Carrier or one of the many other great Boba products online or using the store locator.
Be sure to follow Boba via facebook and twitter for all of the latest product updates!
*Disclosure ~ I received no compensation for this publication. I received this item listed above for review from Boba. While the product is free, the opinions are 100% my own!
Blessings!
Christie