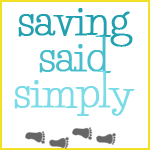 New Site Under Construction….Like Forever
So you may have noticed a few changes around here at Saving Said Simply. Or A LOT of changes.
That's right…I've grown up in the blog world and finally made the switch to WordPress. It's been a LONG process…like over 4 months of design, redesign, blood, sweat, tears and a lot of hand-holding. And I'm a complete mess.
Where am I? What is this? Did I make the right decision?
I don't "DO" change. And I feel like the new kid on the block at my first day on the job. No idea what I'm doing. My desk covered in chaos.
So I'm asking for patience, love and understanding as we move forward, get the ropes under control and get my Type-A organization back in the swing of things. We are ALL going to learn this new site together. See something wonky? Let me know! But I hope to see great changes in the coming year of Saving Said Simply. New opportunities, new challenges, and most importantly more FUN! I hope this redesign represents what I want this blog to be, a FUN place for you to come, hang out, chat and relax!
May 12, 2014. A new start for Saving Said Simply. What's next? 🙂
Be sure to follow Saving Said Simply via Facebook, Twitter, Instagram, Pinterest and YouTube for more of my crazy life, reviews, giveaways and more.