My Life According to Laundry
Another day, another load of laundry.
If you've been following along, you know how much I HATE laundry. It's one of those evil mommy tasks that just never ends. Just when you think you're done washing, you need to remember quickly to throw into the dryer…or succumb to another washing. If you don't remember to quickly throw in the dryer….you get wrinkly. Then the folding and the putting away, that process can take days. Let's be honest.
It is in this groaning task that I came to a realization. My life is a lot like doing laundry…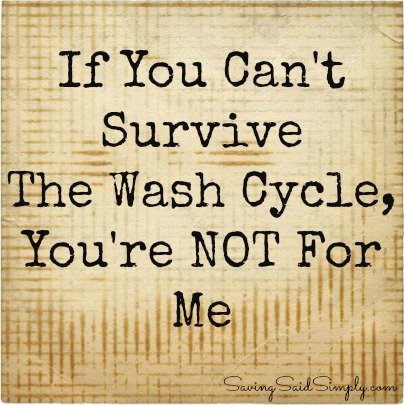 Washing
Nowadays, if you look at my laundry, you'll notice it all has one thing in common. It's all machine washable. If you cannot survive my wash cycle, then that piece of clothing is not for me. You need tough skin, thick skin and the ability to endure a bumpy ride.
So goes a lot of situations in my life. I tend to let the petty, the unimportant and the NOT me get in the way of my laundry days. But in the end, those delicates don't belong in my washer. And they quickly become hole-y, damaged and eventually thrown away. Why did I waste time ever washing that?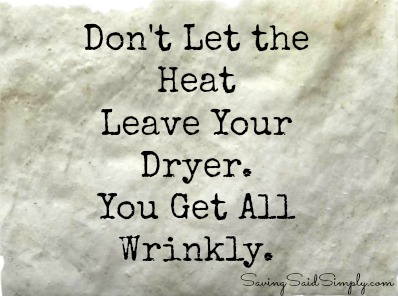 Drying
Onto the dryer. Don't let that heat and fire and passion run out. You get all wrinkly. Ok…maybe that's a bad mental picture. But think about it. Make sure that you are still pursuing your dreams. Find a goal and stick to it. Make sure to have that joy in life. Don't let the heat out of your dryer!
Example? You know, I just got back from a Weekend to Remember. It's a marriage retreat where we reconnect, learn some great communication tools. But the one take home piece for me is this. Your relationship with your spouse is the heart of your marriage. How you run the house, interact with your kids, your mood is all affected by the relationship you have with your spouse. If you do not focus on your husband…it affects everything else in the house. I need that fire, that passion, that LOVE for my husband to shine through, everyday. I don't want the heat to leave my dryer. I have too many amazing things happening in my life. 2 beautiful kids, a job that I love, friends that support me, and most importantly a husband that's by my side. Some folks dream of having what I have. I shouldn't be taking advantage of it, but instead using that to fuel my fire. No wrinkly, old, sheltered lady here. I'm going to change the settings on my dyer to high heat 🙂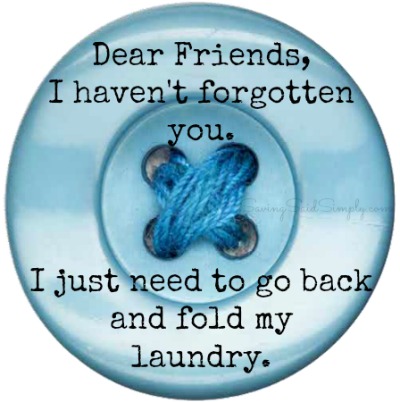 Folding
This is definitely an area of my life that has been neglected. The folding and putting away. Life gets busy. Your world revolves around kids, their schedules and basic survival. I'm outnumbered, out of ammunition, and out of energy. And then I look over at my phone. That "Hello, are you alive?" text message. The 5 voicemails. The Mommy meetup I completely forgot about because my daughter ran off with my phone and turned off my calendar alarm.
I know, I'm a terrible friend right now.
But friends, please know that you are not forgotten. I will eventually get to listen to those voicemails. I will reschedule our playdate. I will respond to that text message….even if it's 5 days late and while I'm in the bathroom. I just need to go back and fold my laundry.
So there you have it.
My life can be described in laundry. Maybe I've spent too much time sniffing my latest laundry detergent scent or trying to find where my baby hid the dryer sheets. But for today, laundry is my friend.
But tomorrow…who wants to come fold my laundry?
Be sure to follow Saving Said Simply via Facebook, Twitter, Google, Instagram, Pinterest and YouTube  for more of my Mommy Brain Thoughts and more