I scored big at Gymboree today! I had a Gymboree Reward for $5 I had to use before Christmas, so I figured I'd hop in for a quick deal. I was so glad that I did!
They were having an extra 25% off clearance. I would normally say this isn't a big deal. But today I was able to use the 20% off Gymboree coupon from my Parents magazine (and also found in the Disney Family Fun magazine) to stack on top of the clearance deal! I saved an extra 40% off my clearance purchase today.
*This is not how Gymboree sales normally work. Every advertised sale (such as the Fill-A-Bag 30% sale that just ended) disallows coupons to be stacked on top of their sale prices! That's why this is such a GREAT deal!
Here's what I bought: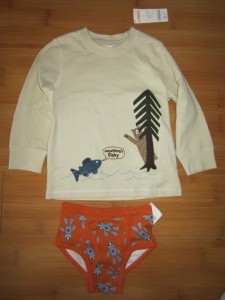 The shirt was $5.99 (originally $20.95) and the underoos were $3.99 (originally $6.50). Gymboree took all promotions off first, before applying my $5 rewards money. My grand total after all deductions is
$1.05, including tax for a total savings of 96% :):):)
If you haven't though about joining Gymboree Rewards, you should. It's completely free. For every $250 you spend, you get $5 in rewards. Plus there are special days for earning extra points and shopping the sale days before regular customers. I would highly encourage signing up in stores, where they hand you a physical Rewards card. If you sign up online, you have to tell them your personal info every time (kind of annoying).
Head in today to take advantage of the sale and Happy Shopping!
Was this Saving Said Simply? Let me know!
Blessings!
Christie