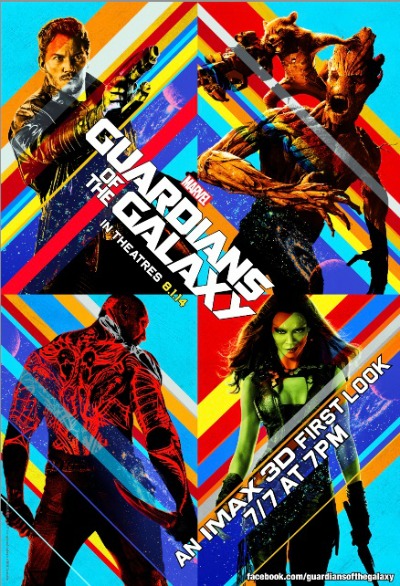 Guardians of the Galaxy – FREE IMAX Sneak Peek #GuardiansOfTheGalaxyEvent
HURRY Guardians of the Galaxy Fans! You are going to want to quickly jump on this exclusive IMAX Sneak Peek of one of the hottest movies of the summer! Marvel/Disney just announced a FREE 17 minute IMAX sneak peek of Guardians of the Galaxy at select IMAX theaters across the country for July 7, 2014!
On a first come, first serve basis, hard core Guardians fans will get to see never before seen exclusive footage in IMAX 3D! 150 IMAX 3D® theatres nationwide and internationally will offer the special screening of thrilling footage customized in IMAX 3D of the James Gunn-directed epic space adventure, which opens in U.S. theatres on August 1.
"IMAX and Marvel fans are some of the most die-hard in the world and we're excited to offer them this exclusive extended first-look at one of the summer's hottest upcoming movies in IMAX 3D," said Greg Foster, Senior Executive Vice President, IMAX Corp. and CEO of IMAX Entertainment. "James Gunn's visionaryfilm in IMAX 3D is going to give our audiences an immersive experience they won't find anywhere else, and we're thrilled to get the ball rolling and reward fans early at this unique event." ~ director James Gunn
BONUS: Fans who attend this sneak peek will also receive a limited-edition collectible Marvel's "Guardians of the Galaxy" IMAX poster. Are you feeling the Guardians of the Galaxy love yet?
Like GUARDIANS OF THE GALAXY on Facebook: www.facebook.com/guardiansofthegalaxy
Follow GUARDIANS OF THE GALAXY on Twitter: https://twitter.com/Guardians, #GuardiansOfTheGalaxy
GUARDIANS OF THE GALAXY opens in theaters everywhere on August 1st!
Be sure to follow Saving Said Simply via Facebook, Twitter, Instagram, Pinterest and YouTube for more Disney movie updates and more!