Let's get your little one's hair accessories under control with this Easy Hair Organizer for Girls with SoCozy at CVS! This is a sponsored post written by me on behalf of SoCozy. All opinions are my own and not edited by the sponsor.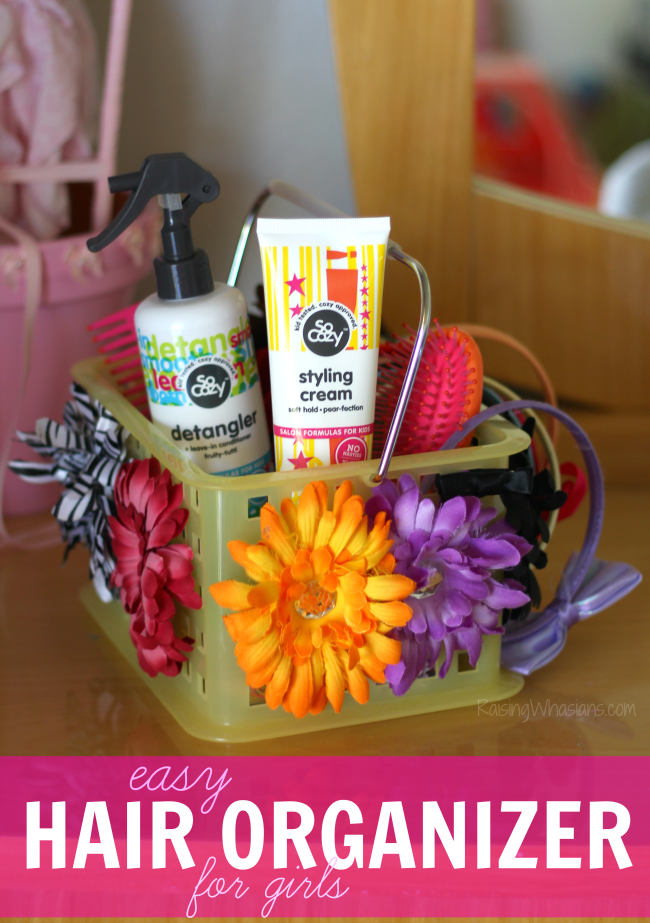 Easy Hair Organizer for Girls with SoCozy at CVS
I never had to deal with this with my son. Hair accessories. A daughter is born and all of a sudden I am drowning in headbands, bows and brightly colored hair ties. And these days, those toddler hair accessories can be found mostly curling between my toes (she dumped the hair ties for 40th time today?!) and infecting every crevice of the house. And that's on top of chasing my toddler down just to brush her hair. Nightmare for an OCD mom. So gathering every possible girly hair accessory I could find (there may or may not have been a vacuum involved), I made this Easy Hair Organizer for Girls. If you're ready to enter a new generation of hair accessory organization for your little girl, here's the place to start. Check out how I got the chaos under control and our latest favorite chemical free hair care products for kids from SoCozy!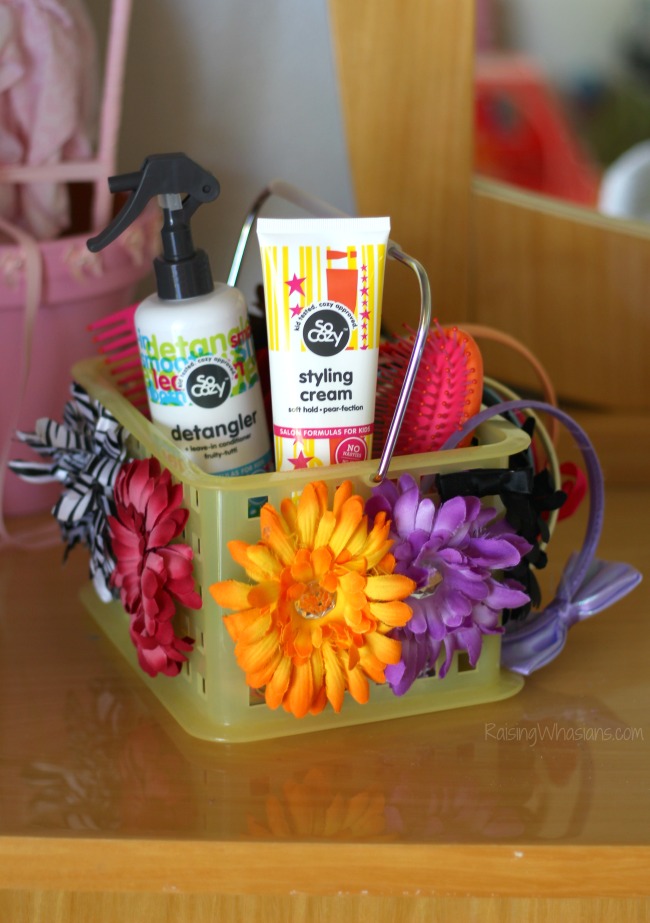 Step 1: All-in-One Caddy
All-in-one. Time to simplify, mom. And it all begins with an amazing caddy. Tough, durable, and plastic, I went with a small shower caddy with handle for our hair care center. The most important feature? HOLES. Make sure your shower caddy has plenty of holes for storage. Trust me.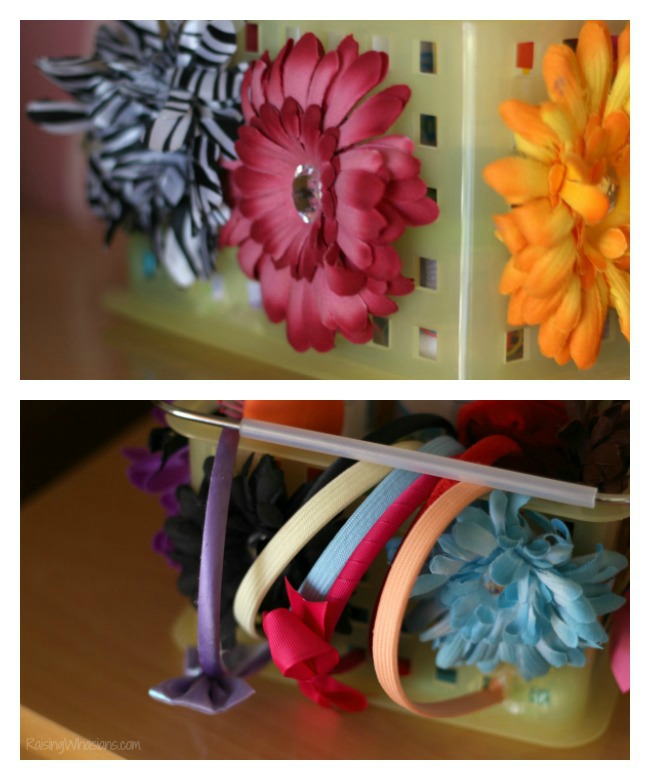 Step 2: Organize Your Bows
Time to grab those headbands, hair bows and hair ties. First thing was first. I grabbed a hard to open tupperware container for those hair ties. No more toddler explosion of plastic ties all over the house! I easily threaded the headbands through the holes of one side of the caddy. Clever, right? Then we take those hair bows and clip them all over the caddy. Doesn't it add a cute girly touch? Everything else I tucked inside the caddy. I can finally SEE all of the hair accessory options!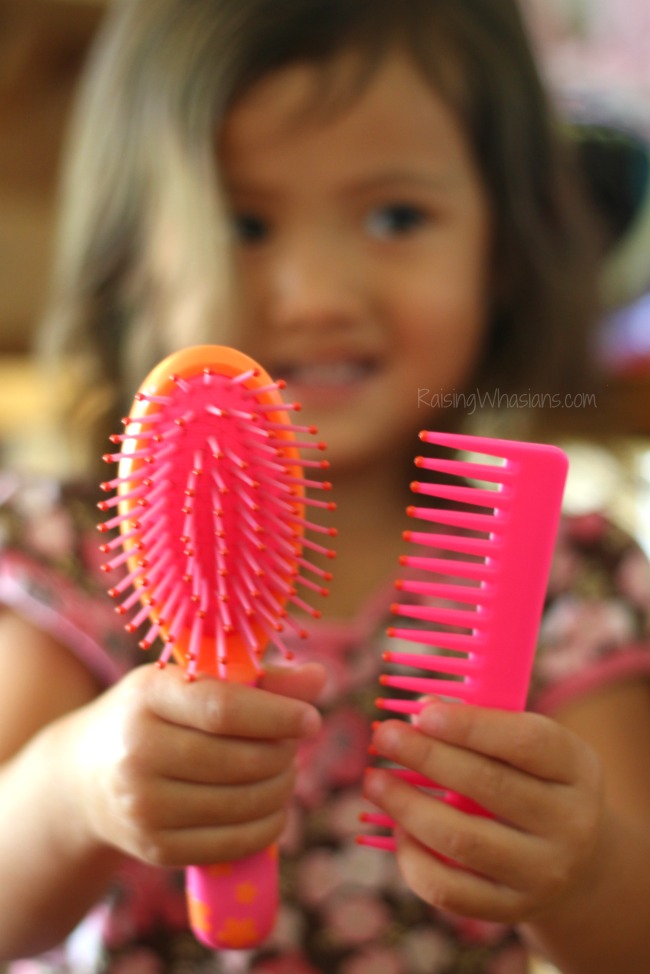 Step 3: The Right Tools
Want to get your toddler to sit for hair grooming? It's all in the tools. I let my girl pick out an adorable brush and comb set. You bet, hot pink! She now comes running when it's hair combing time, because she knows that she gets to use her own special tools.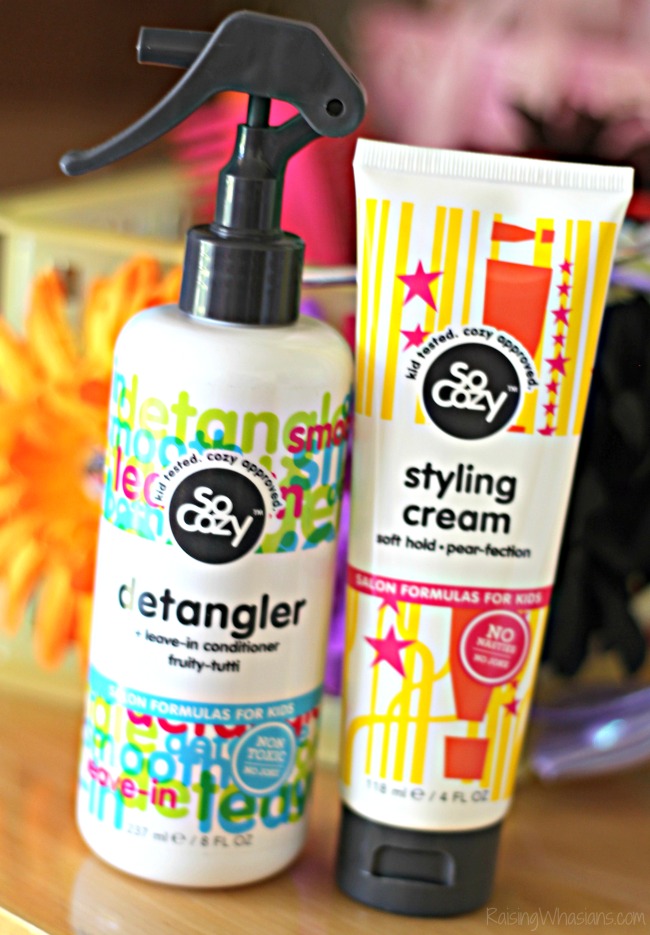 Step 4: SoCozy Hair Care for Girls
One word to describe my daughter's hair. WILD. I just have to look at her hair and she instantly gets knots. Between bedhead disasters, pool time and princess twirls, this girl's curls have me twisted in time consuming brushing battles. We both get frustrated with the process. Detangler is my MUST HAVE product for this wild child's hair. But not any hair care product will do. With all of the toxins and chemicals in products these days, I have to be careful.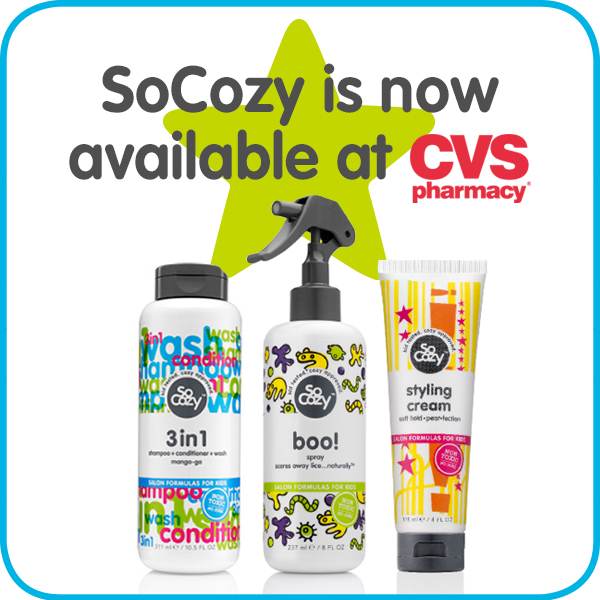 I was so excited to find a chemical-free kids line of hair care products at my local CVS. SoCozy, have you heard of it? These fun kid-friendly hair products have your little ones in mind. All SoCozy products are non-toxic and made without parabens, formaldehyde, sulfates, phthalates, synthetic color, propylene glycol. SoCozy is also free of alcohol, gluten, wheat, peanuts and tree nuts too. So what do you get? From styling to detangler, lice care to shampoo, these products are safe, effective and perfect for my girl's wild mane.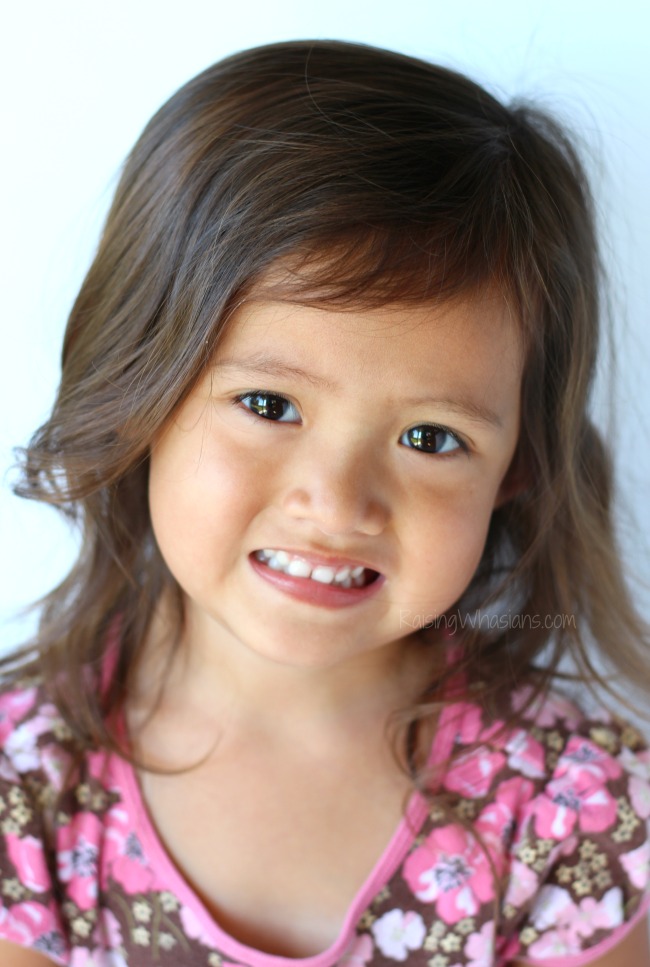 At age 3, I love how girly my daughter is. And with the help of this adorable and Easy Hair Organizer for Girls and SoCozy at CVS, I can finally get this toddler's wild hair under control. I have no problems getting my little "helper" to bring over her girly caddy for a moment of pampering and girly fun! Bows and pig tails, curls and baby softness, this girl has the prettiest hair in the world. And I love that I can capture more of those beautiful hair moments instead of bed head.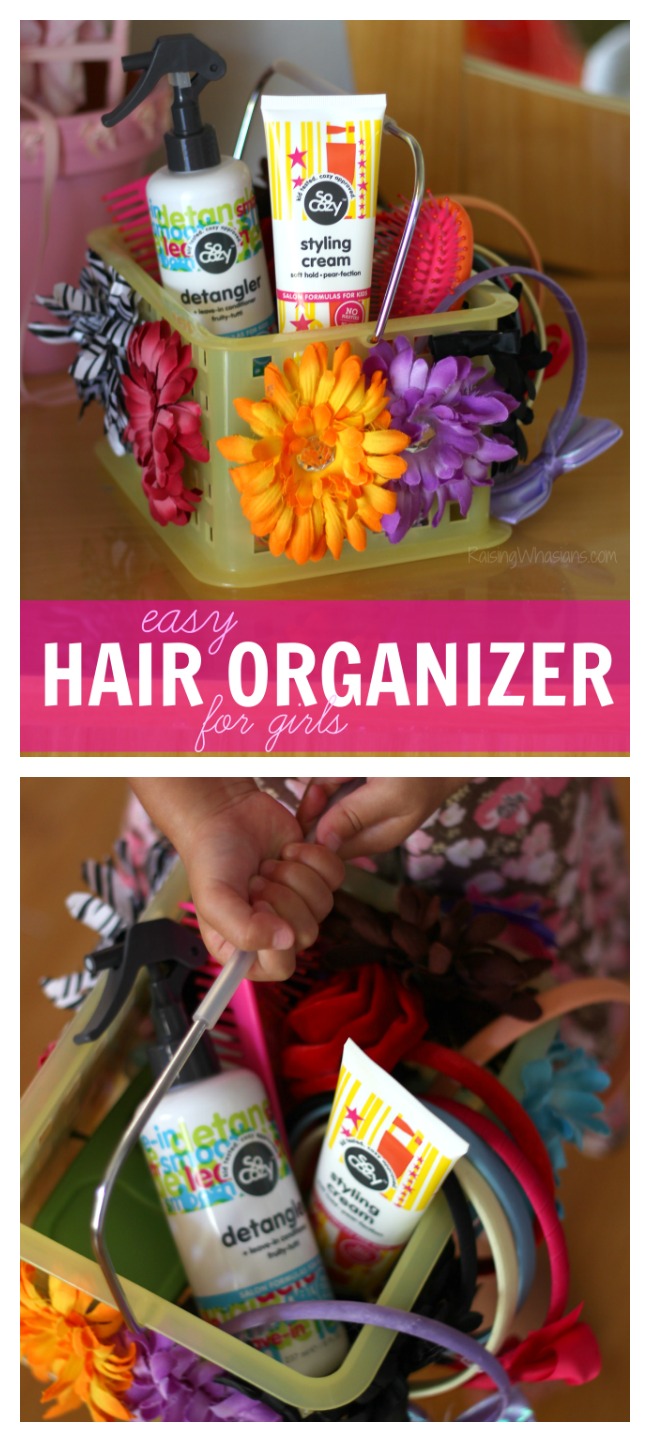 What's your best tip for organizing little girls' hair accessories?
Be sure to follow Raising Whasians via Facebook, Twitter, Instagram, Pinterest and YouTube for more family recipes, kid crafts, family travel and moments that matter.