DIY Mother's Day Gift Idea + FREE Thyme Printable Gift Tags
With Mother's Day right around the corner, it's easy to go out and buy a gift. But what about making something personal? Special? And perhaps save you money? YES! This frugal DIY Mother's Day Gift idea turns a cute Thyme Plant into a special treat for mom. And guess what? I spent less than $4! Here's how:
1 Fresh Thyme Herb Plant (with roots)
1 Coffee Mug (think thrift store, garage sale or big box store for $1 or less)
1 Saucer (no, it doesn't have to match!)
Dirt
String or Twine
Single Hole Punch
1 Set of Thyme Printable Gift Tags (see below)
Directions:
Fill mug with dirt. Place fresh thyme plant inside and fill with remaining dirt. Water 🙂
Print out your "Thyme" Printable Gift Tags below. Cut. Punch a hole. Thread through string.
Wrap Thyme Plant with gift tag/string. Place mug on saucer.
Give as a lovely gift!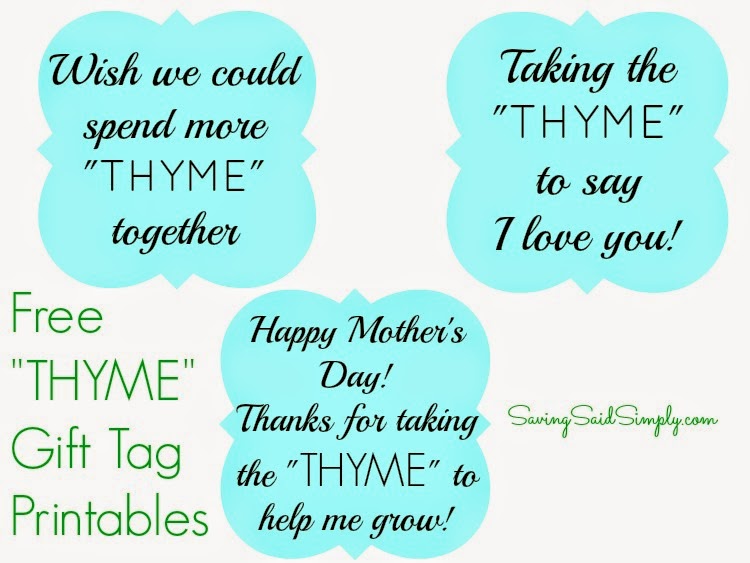 Here's how fun "Thyme" gift tags! To print, click on the image above. Then right click and "save" image to your computer. You can then print on a standard 8.5×11 piece of paper! We used a heavy duty poster/paper for these gift tags.
These Thyme Plants make great Get Well gifts, Mother's Day or just I love you gifts! And for under $4, you really can't beat that price! So go ahead and give the gift of life! Smells wonderful too. 🙂

Need some more DIY inspiration? Check out my Pinterest Page or DIY tab!
Be sure to follow Raising Whasians via Facebook, Twitter, Google, Instagram, Pinterest and YouTube for more easy DIY ideas, family recipes and more!