Say hello to summer fashion with this adorable Coral Dress Two Ways + The Perfect Pair of Glasses.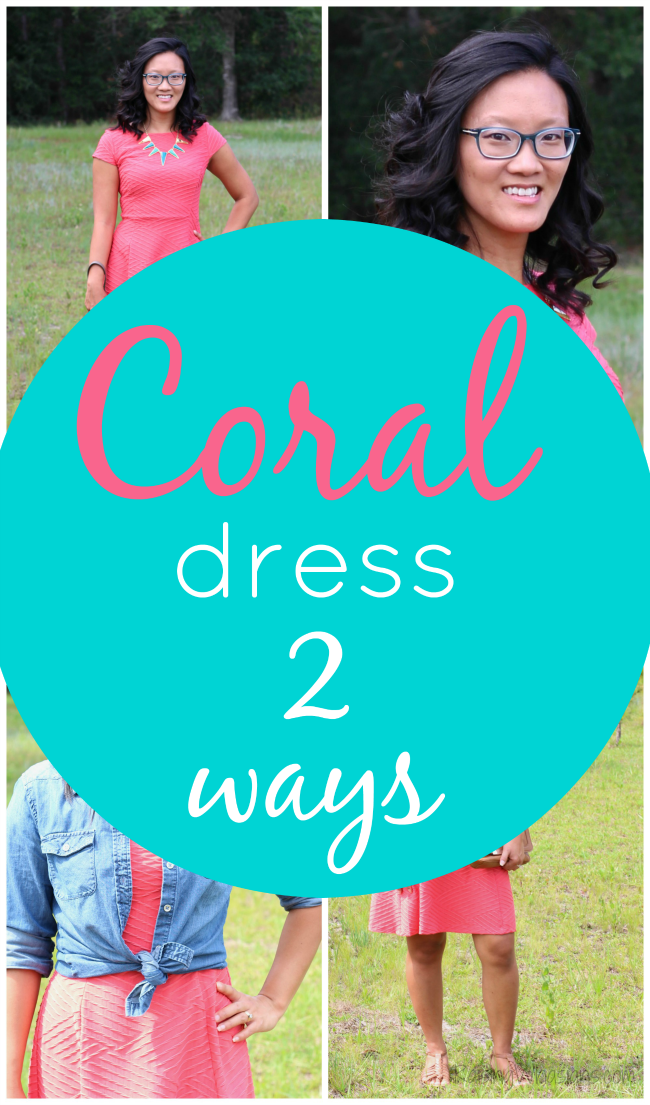 Coral Dress Two Ways + The Perfect Pair of Glasses
I have a "Superman" sized secret. I wear glasses.
It's not something that I've shared on the blog before. Perhaps scarred by my childhood, it's a constant reminder of the teasing, the stares and the insecurities I had so many years ago. I remember begging my parents for contacts. I remember wearing them everyday since. Buried down deep, only those who really knew me – like REALLY knew me – had a grasp on my Clark Kent Superman secret.
But as I get older, I realize the vanities I once obsessed over as a kid were frivolous and silly. I never want my kids to see or experience such insecurities. So why should I hide behind mine? I wear glasses. Why not celebrate that? So here I am today displaying the very glasses that once consumed me with anxiety as THE confident accessory of this post. Ironic. Today I share my new favorite for summer, this Coral Dress Two Ways, accented with The Perfect Pair of Glasses as the star of the show.
Bye, bye childhood insecurities.
I am all about getting the most out of your wardrobe. And lately, I'm loving outfits that I can dress up or down. Because for me – twice the use = twice the value (or at least what I tell my husband). Coral is my new summer color. And yes, I know I'm bordering on the pink realm. Hey, I'm branching out, ok? One Coral Dress Two Ways – hello, summer!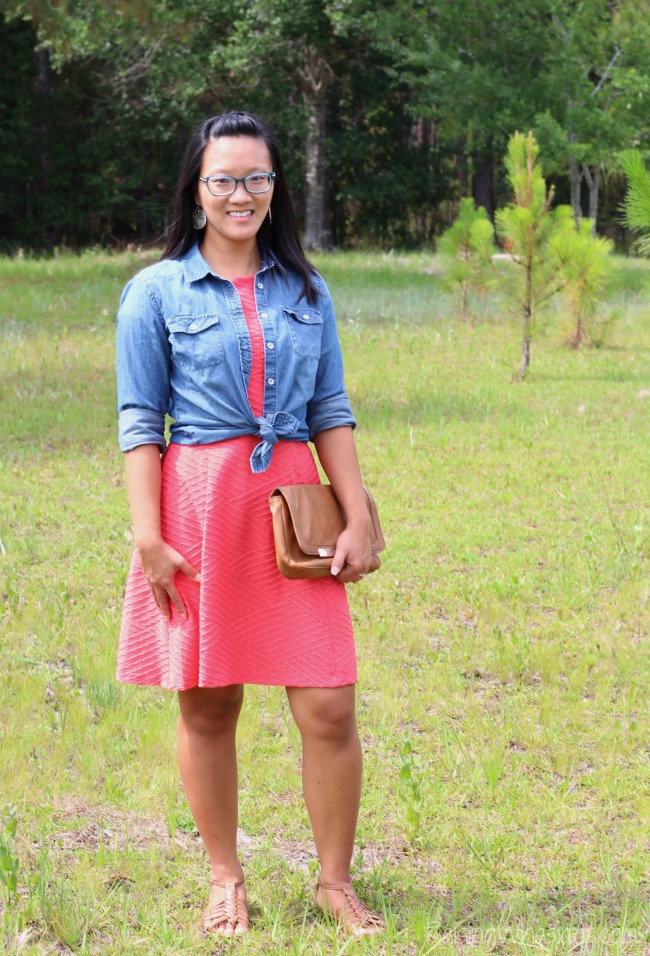 Casual Coral
No need to pull out the yoga pants for a day out this summer. Pair a comfy coral dress (I bought this one for only $14.99!) with a chambray shirt for a great splash of summer fun in your everyday wear.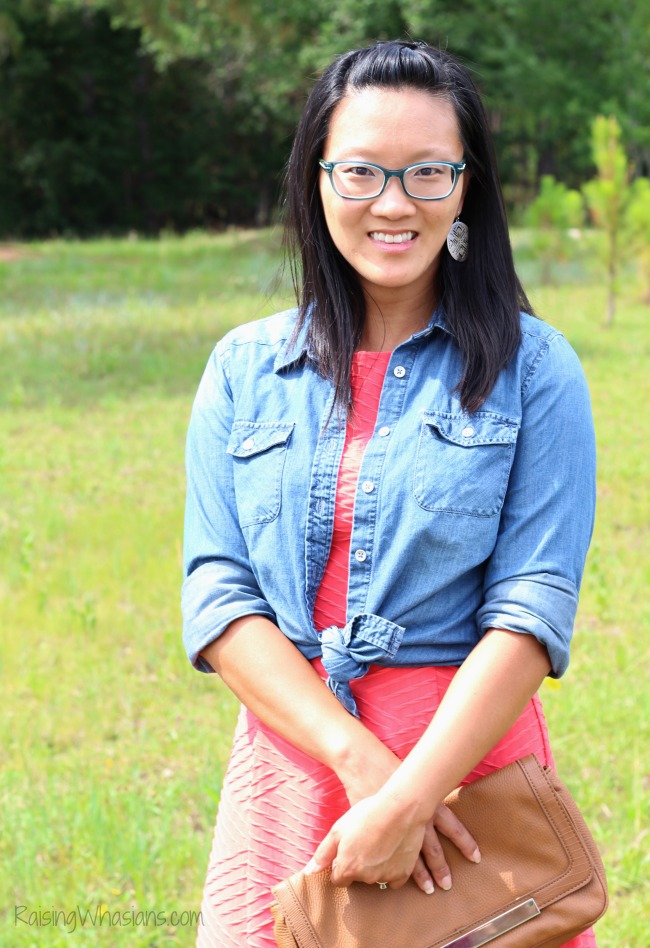 Add in some big silver earrings, comfy sandals and a matching clutch – I'm ready to tackle everything from a lunch date to the grocery store.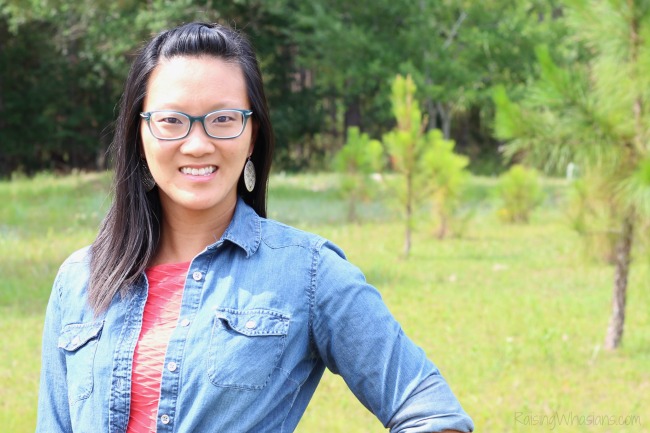 I love how these glasses help to make this outfit great for a casual summer day. The bright blue frames add a perfect touch of color to this combo.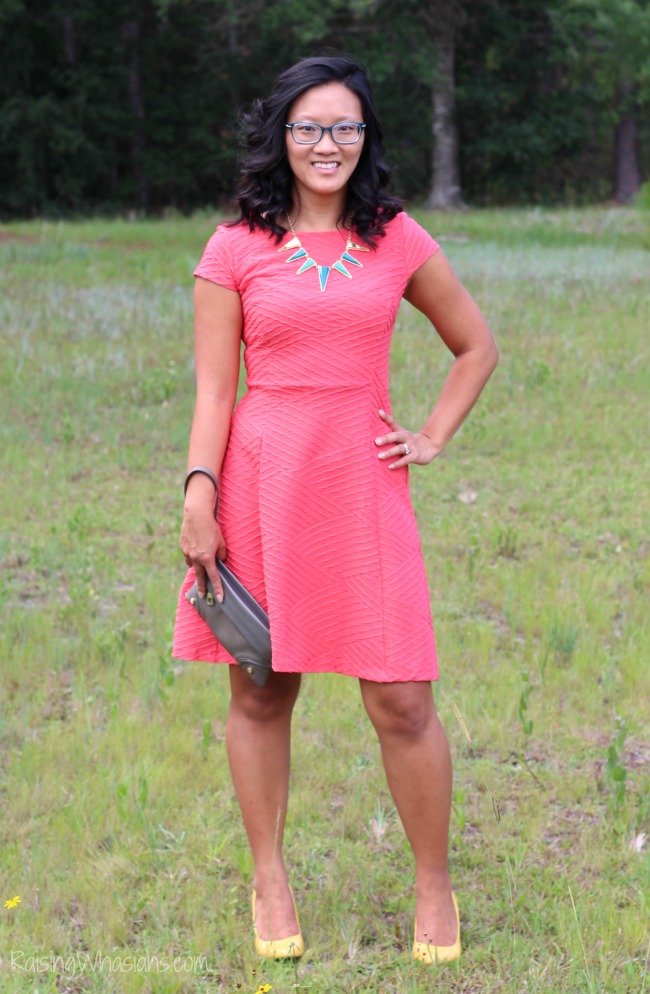 Dressy Coral
Would you believe me if I told you that this dress was my "backup" dress for the Finding Dory Red Carpet Premiere?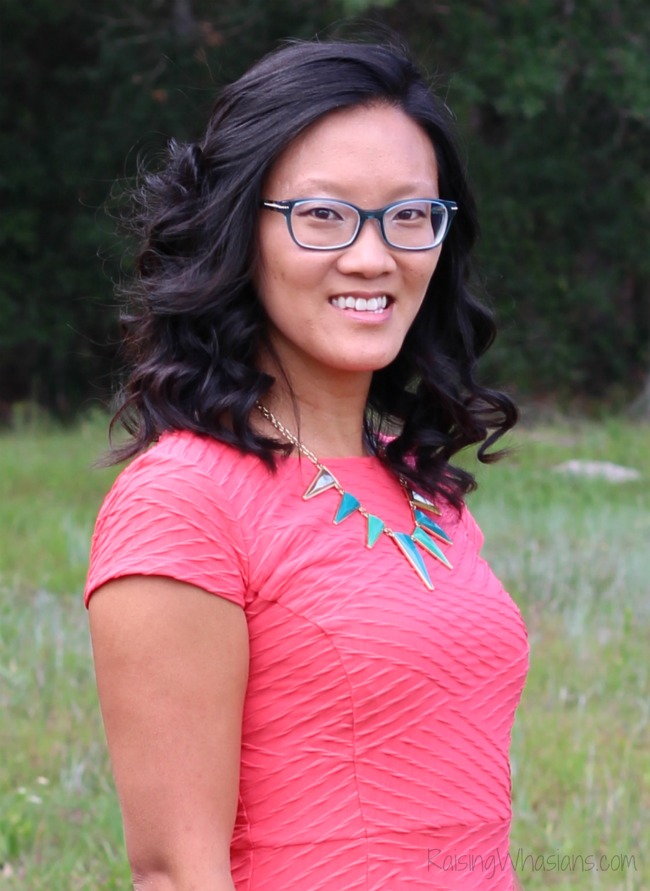 Coral is a great way to make a bold statement this summer, from a red carpet premiere to a date night.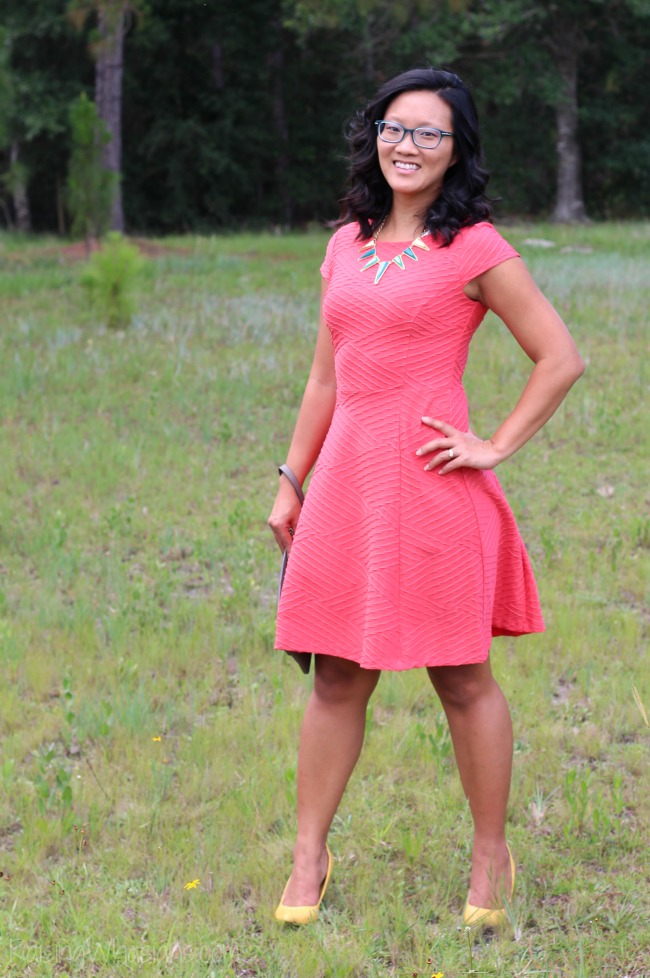 Add in yellow heels (my favorite $10 purchase!), and a bold statement necklace (loving the teals for summer) and BOOM – summer is yours! I love this look because it's playful and fun with all of the complimentary summer colors. Cannot wait to hit the town in this dress!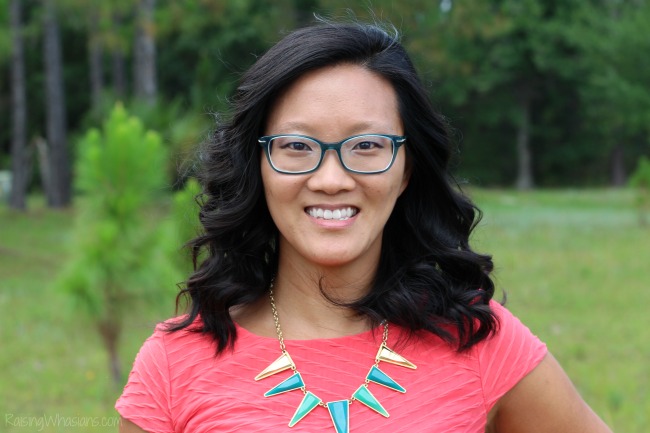 The Perfect Pair of Glasses
Summer is the perfect time to show off those BOLD colors! And these blue glasses are the perfect fashion accessory for my new summer coral dress. Where do I head for fashionable and affordable glasses for a busy mom? JCPenney Optical. With tons of great styles for your family budget, I know that I'm investing in the best accessory for my wardrobe.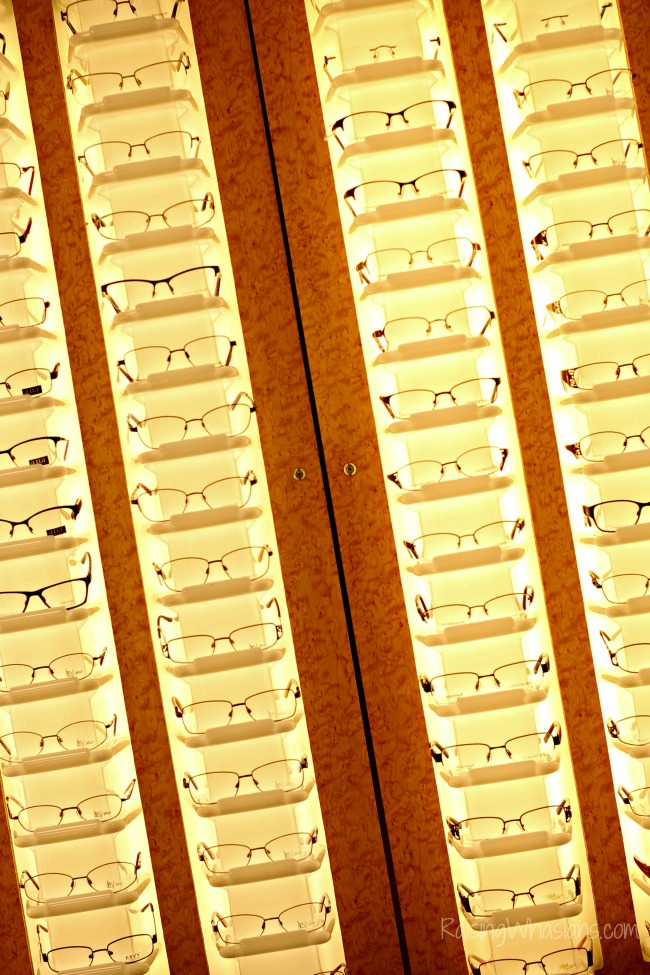 Tips to Find The Perfect Pair of Glasses
Start with a budget. Glasses are an investment. You need to decide what budget works best for you and your family.
Look for savings. I love the feeling of getting a great deal. JCPenney Optical has a bunch of affordable frames from famous name brands such as a.n.a., Arizona, Cover Girl, Izod, Isaac Mizrahi, Nicole by Nicole Miller, and Liz Claiborne – so I already feel like I'm winning. And now through June 18th, you can save even more with 50% off frames and lenses + an EXTRA 25% off for FRIENDS & FAMILY.
Bring a friend. A second opinion can be a huge time saver for your glasses investment.
Try something new. Trends are constantly changing, always bringing in new styles that may be perfect for you. I always make a point to try a pair of glasses that I would never pick for myself…you may be surprised!
Find frames that fit your face shape.
Thicker vs. Thinner. I won't lie, my prescription is high, very high. That means that I can expect my lenses to be thick. Using thicker frames can balance out the thickness of the lenses, giving me greater confidence.
Balance trends & classic styles. Again, I cannot stress how much that your glasses are an INVESTMENT. You'll probably be holding onto these frames for a few years, so find a pair that you are going to love and keep on loving years down the road.
Ask for help. JCPenney Optical was super helpful in helping me to find the perfect summer frames. The rep was quick to point me in the direction of what was popular, stylish and sold often for the season. Find your local JCPenney Optical center with the convenient store locator here: http://clvr.li/1Nog3ne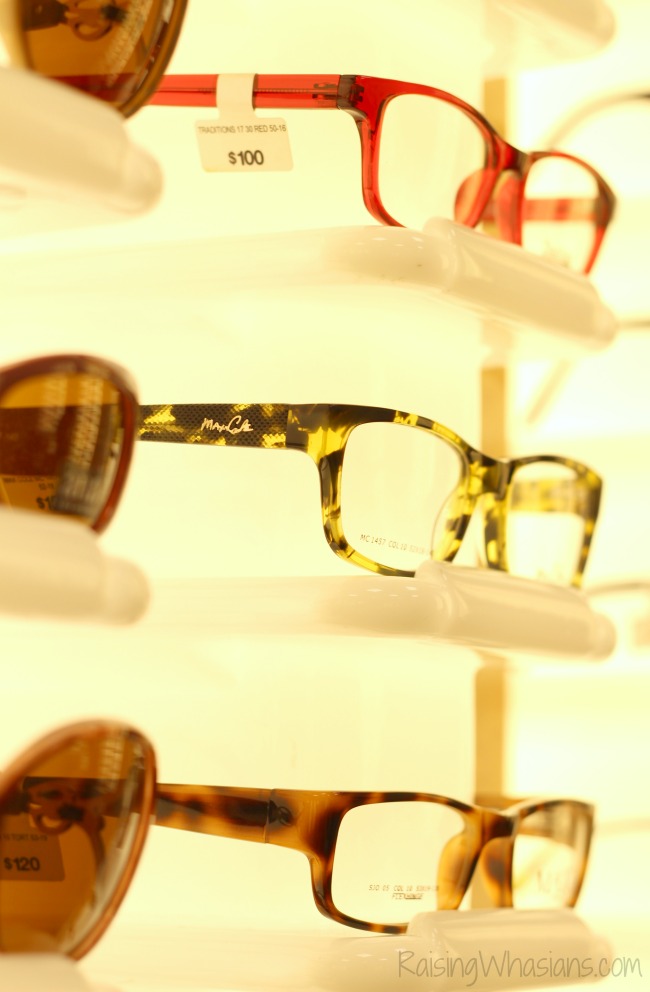 Be sure to visit JCPenney Optical for more fashion forward ideas and promotions throughout the year!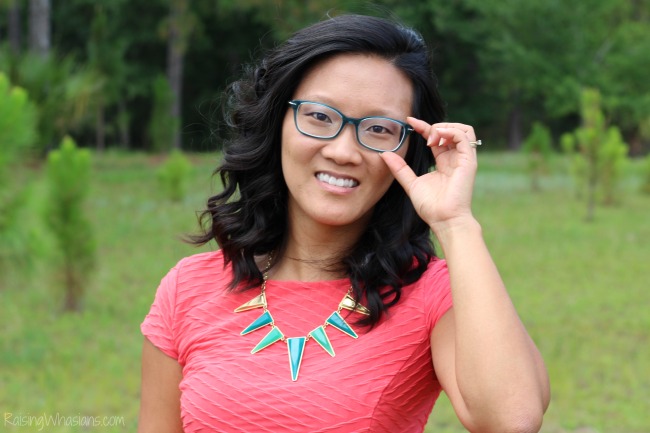 Dear World, I wear glasses. And I'm darn proud of it. And now I can rock them with this Coral Dress Two Ways.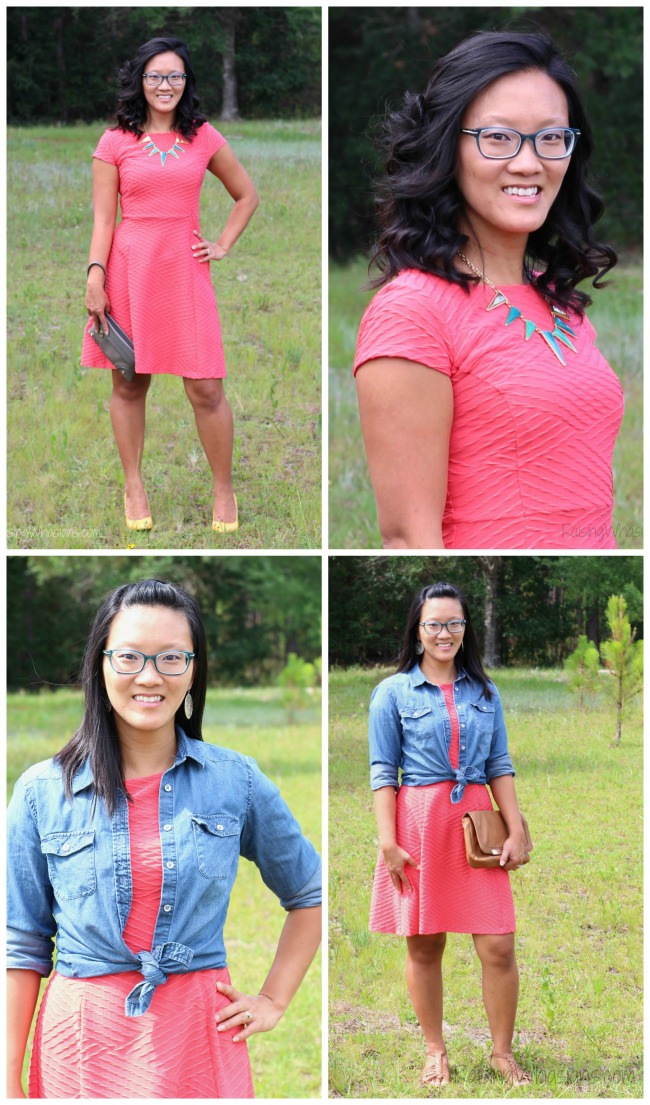 What color combos are you loving for summer?
I was selected for this opportunity as a member of Clever Girls and the content and opinions expressed here are all my own.