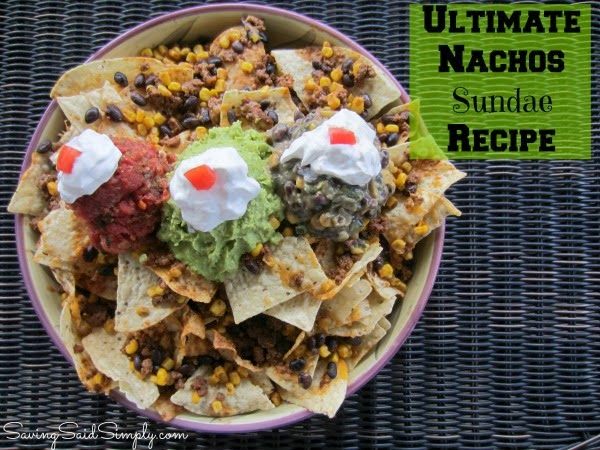 Ultimate Nachos Sundae Recipe with Wholly Guacamole #HOMEGATING
We're gearing up for the BIG football day, so what better than some great nachos that are not only a crowd pleaser, but looks amazing too! Wholly Guacamole is ready for the finale of the #HOMEGATING season with their delicious guacamoles and salsas. I am super excited to share my Ultimate Nachos Sundae Recipe made with Wholly Guacamole so you can wow your nachos lovers!
(1) Package of Wholly Guacamole – I used Classic
(1) Package of Wholly Guacamole Salsa – I used Classic Hot
(1) Package of Wholly Guacamole Avocado, Black Bean & Roasted Corn Salsa
(1) Family Size Bag of Corn Tortilla Chips
(1) 14.5 oz. Can of Whole Kernel Sweet Corn
(1) 15 oz. Can of Black Beans, drained
(1) lb. of Ground Beef
(1) Envelope of Taco Seasoning
(1) 8 oz. Package of Shredded Cheddar Cheese
(1) Container of Sour Cream
(1) Small Tomato, chopped
Directions:

1. Freeze Salsa and Guacamole in freezer about 1-2 hours before prep.
2. Brown Ground Beef in large pan over medium heat. Drain fat.
3. Add Taco Seasoning & cook according to Taco Seasoning directions (usually adding water). Set aside.
4. Layer Tortilla Chips in large cookie sheet. Top with corn, black beans and seasoned ground beef. Top with cheese. Bake in oven at 400 degrees for 10-15 minutes, or until cheese is melted.
5. In large serving dish, layer your chip mixture.
6. Remove Salsa and Guacamole from freezer. Using ice cream scoop, top your nachos with large scoops of the Wholly Guacamole Salsa, Guacamole and Avocado, Black Bean & Roasted Corn Salsa. Top with dollops of sour cream. Crown your sundaes with tomato.
Wanna go meatless? Use Veggie Crumbles, Tofu, or just flavored beans!
You can say this hefty batch of nachos was consumed in a few minutes! It was a huge hit at our recent football party!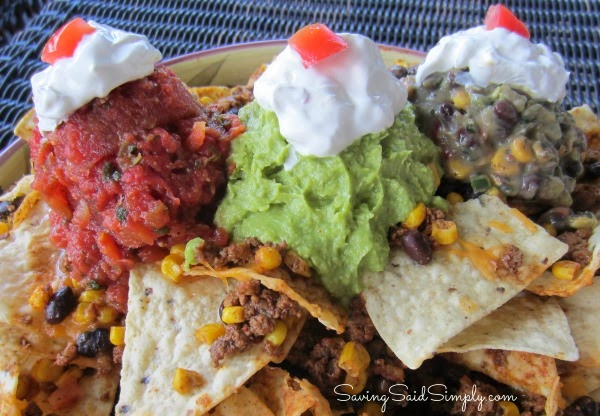 Enjoy sharing (or not sharing) this yummy Ultimate Nachos Sundae Recipe!

You can grab more inspiring HOMEGATING Recipes, Coupons and Tips from Wholly Guacamole to get ready for the Big Game! Chef Nathan Lippy has cooked up some amazing appetizers, entrees, sides, desserts and more with beautiful pictures, full recipes and even how-to videos. Follow Wholly Guacamole on Facebook & Twitter and use hashtag #HOMEGATING to get into the conversation!
What's your favorite Game Time Munchie?
Disclosure ~ I received free products from Wholly Guacamole to conduct this review. No other compensation received. Though the products are free, the opinions are 100% my own. Be sure to follow Saving Said Simply via Facebook, Twitter, Google, Instagram, Pinterest and YouTube for more fun reviews, recipes, crafts, giveaways and more!
Blessings!
Christie