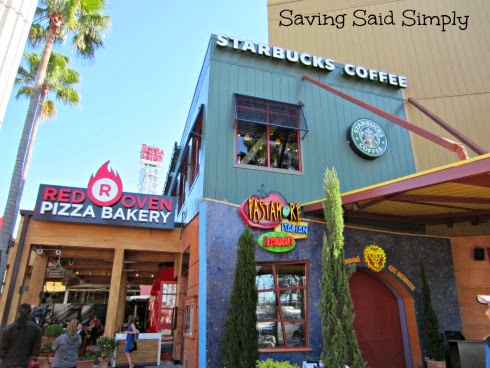 Universal CityWalk – 3 New Venues Opening June 2014!
June 2014 brings more changes to the new look of Universal CityWalk! More exciting eateries are opening, and bring diverse dining for the whole family! This month, three new venues will debut at Universal Orlando's CityWalk as part of this year's historic expansion to the entertainment complex.
Menchie's is now open and is located on the second floor promenade of CityWalk. This popular frozen yogurt shop provides guests a unique and fun frozen yogurt experience with an expansive, self-serve toppings bar that is guaranteed to make guests smile. Have you tried it yet?
Later this month, Hot Dog Hall of Fame and VIVO Italian Kitchen, will join the CityWalk line-up. I have been dying to try Hot Dog Hall of Fame. Our family is big on our hot dogs, with Chicago being our family fave. With so many great offerings from around the U.S., maybe we'll find a new family fave!
Hot Dog Hall of Fame, located across from Antojitos Authentic Mexican Food on the second level of CityWalk, will feature iconic hot dog creations from some of our nation's most famous ball parks, including the loaded Chicago dog and Boston brat. Universal exclusively partnered with Steven Schussler, the global culinary concept creator behind the popular Rain Forest Cafe, to bring his Hot Dog Hall of Fame concept to CityWalk.
Located on the ground floor next to Red Oven Pizza Bakery, VIVO Italian Kitchen will immerse guests in the essence of modern Italian cuisine. This original concept restaurant will showcase a contemporary dining atmosphere, allowing guests to watch chefs handcraft pasta from scratch and create classic Italian dishes with a modern twist.
Menchie's, Hot Dog Hall of Fame and VIVO Italian Kitchen join Red Oven Pizza Bakery, Antojitos Authentic Mexican Food, Cold Stone Creamery and Starbucks as the latest establishments to open as part of the expansion to Universal CityWalk. Other venues will open later this year. For more information about Universal CityWalk, visit: https://www.universalorlando.com.
Be sure to follow Saving Said Simply via Facebook, Twitter, Google, Instagram, Pinterest and YouTube  for more Orlando happenings!