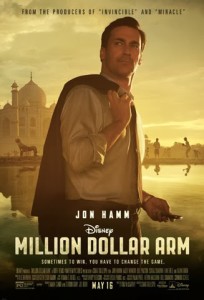 Million Dollar Arm – New Video Sneak Peek #MillionDollarArm
The Million Dollar Arm movie comes out super soon! Are you going to see this one? I love that it's based on a true story. Disney always knows how to get your with those 🙂 Here's a new video clip just released that will get you excited for the new movie.
You can check out the new trailer for the movie HERE.
MILLION DOLLAR ARM opens in theaters everywhere on May 16, 2014!
Be sure to follow Saving Said Simply via Facebook, Twitter, Google, Instagram, Pinterest and YouTube for more fun Disney happenings!
Blessings!
Christie