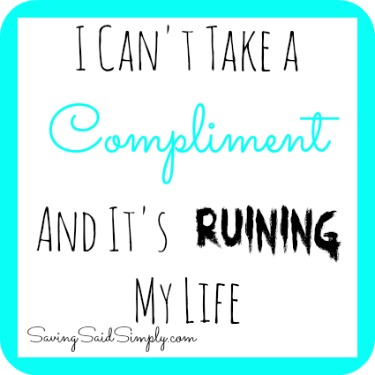 I Can't Take a Compliment and It's Ruining My Life
"I love how you look in your new dress."
"This thing? No way! You're the one who looks amazing today!"
Or how about…
"You are beautiful!"
"Thanks…" *BUT I'm really thinking…I'm so ugly. She's probably saying that to be nice. Maybe she tells everyone that.*
It's horrible. I don't know why. But my brain is wired to immediately diss myself. I can't take a compliment. And it's ruining my life. I immediately take a compliment and toss it out the window. I come back with a snarky remark about myself. I divert onto someone else. What's wrong with me?
I know being humble is an amazing trait. But this is too far. I know that. Admittance is the first step, right?
What have I learned?
There's a fine line between humble and annoying.
I mean at some point, you're going to have to accept a compliment. The more you say no, the more you turn down…the more people will stop handing them out. And worse, you start BELIEVING that you are not worth the compliment and might miss some fantastic opportunities.
I have to start believing that I am worth the compliment. There will be a day when I actually do look good in the dress I bought. Where folks might see me as a beautiful person. I shouldn't be slouching and hiding behind someone else's success.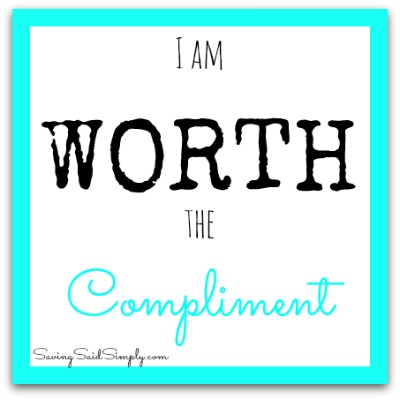 I am confident. I am amazing. I can be THAT person.
I recently was asked to speak at a blogging conference. I immediately turned it down, because I thought I wasn't at the same level or caliber of the other speakers. I don't have ANY experience. I don't have an amazing bio. Nothing notable or special about me. Who would want to listen?
BUT Why would I want to miss out? Someone sees something in me. Something worth getting up in front of a bunch of folks to share my story. Someone sees something worthy of an appearance.
I am confident. I am amazing. I can be THAT person.
Well…maybe you will see my face on a blogger speaker list one day. I am worth the compliment.
Can you take a compliment?
Be sure to follow Saving Said Simply via Facebook, Twitter, Instagram, Pinterest and YouTube for more reviews, giveaways and more.