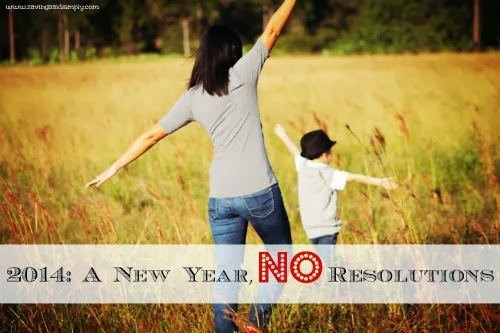 2014 – A New Year, NO Resolutions
I've always hated the word resolution.
To me, it always implied that I was doing something wrong and that it needed to be resolved. It feels like I need amend something that was bad and broken. Perhaps this is why so many of us make "resolutions" at the beginning of the new year and by week 2 most of them have been forgotten and left behind.
For instance, when my baby was born in January of 2013, I put a lot of pressure on getting my body back to pre-pregnancy shape. I had a goal of getting back to pre-pregnancy weight within 3 months. I was working out every other day (if not every day) and also breastfeeding. Within 1 month, I realized the negative results my desperation for a slim body was having on my child. My milk supply was diminishing and my child was beginning to starve. I came to a crossroads in my life. I could continue to give my child the best nourishment I could provide…or be thin. Obviously, I made the right choice. I gave up exercising (outside of walking) and focused solely on my child's health. It was the best choice I could have made. She's now a beautiful, pudgy, well-nourished child because I gave up my vain desires.
We put so much pressure on ourselves for perfection. There are so many goals that cannot be possibly achieved, and we find ourselves reaching for impossible heights.
I know that if I make a "resolution" for 2014, of course it's going to be getting back in shape. Everything seems to be moving out and south. And I love the adrenaline, the power, the results of being a more healthy me. But I'm going to fail. I'm not going to make my work out goals. I'm going to give in to that piece of chocolate. I'm going to get busy with my kids, with life. The pounds won't come off. I'm going to get frustrated.
As soon as failure hits, people just give up. And let's face it, failure HURTS. So this year I want to challenge you to NOT make a resolution. Instead, give yourself more OPPORTUNITIES to reach whatever dream you have. Whether it's finding that hour in your day to workout, to having a salad instead of that chocolate, getting off your phone to spend more time with family, coming home more often from work instead of staying late, seeking help for your addictions, marriage problems…you get the picture.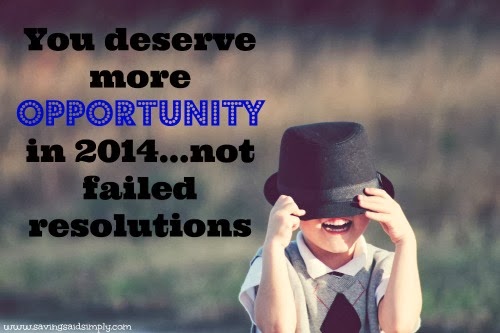 You deserve to have more OPPORTUNITIES in 2014. It's a new year. A new start. A new opportunity to make a difference. This year I challenge myself with more OPPORTUNITY to be a better me. I will find the time. I will do something for ME. I will love me more. And perhaps I'll achieve that life goal of running my first half marathon.
Each opportunity I give myself is an ACHIEVEMENT, albeit a small one. But each small opportunity can lead to a BIG change.
Thanks for following me in 2013. I can't wait to share with you in 2014. Saving Said Simply is going to have great OPPORTUNITIES in 2014, hopefully will make some big changes, big differences in people's lives. I can't wait to see what 2014 has in store for me. Holding on to God's hand, I know there's going to be amazing changes in my life for 2014 and for you too.
Happy New Year!
Blessings!
Christie